Table of Contents
In the previous post, we reviewed the Silhouette Cameo Electronic Cutting Tool. Today, we will compare the Cameo with its so-called ultimate rival, the Cricut Expression 2. Both have been Best Sellers in Amazon and are widely used by crafters worldwide.
Our purpose here is to make a thorough comparison between the two so that you can choose the right die cut machine that will suit your needs.
A Little Background of the "Cameo" and "Cricut"
The Cricut Expression 2 is a product of Provo Craft & Novelty. It is actually a commemoration of the 5th Anniversary of the Cricut Personal Electronic Cutter. It boasts with a new look and some features like full-color LCD touch screen and compatible with all Cricut and Cricut Imagine Cartridges. It was released in April 2011.
The Silhouette Cameo on the other hand is a product by Silhouette America, Inc. It is a successor of the Silhouette SD. The Cameo in fact replaced the SD, meaning that the SD has been discontinued already. But anyone who owns the SD can still purchase software and accessories. And all these are also compatible with the new Cameo. The Cameo was released in October 2011.
Dimensions and Portability of Cameo and Cricut
The Cameo is smaller in dimensions compared to the Cricut. It is also lighter in weight. The main reason for this is that the Cameo is designed to look like a printer where its task is to cut only. All manipulations with regards to design are done through the Software in which case the use of a computer.
Whereas the Cricut's bulk is designed to accommodate its predecessors Cartridges, and the widest material it can cut and that is 12inches in width. Also adding to its size is the LCD touch screen where all the manipulations with regards to die/image selecting and measuring are done. This makes the Cricut independent from the computer.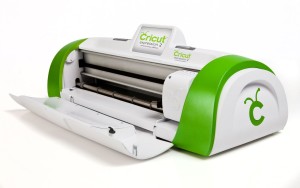 This also brings down to how portable each machine can be. For the Cricut, using a software is only optional. Most of those who actually purchase the machine do not make their own designs or that they are contented with the library of cartridges by Cricut. This makes The Cricut Expression 2 like a plug-and-play machine, where after choosing the shapes fed by the cartridges, it can cut outright without using the computer.
For the Cameo, all designing can be done first in the computer then saving the work in an SD card. This will allow the Cameo to be used on a different place because instructions will be read through the SD card. It is portable in a sense that all cutting can be done at a different place where there is much more space to accommodate a large media or just to do the cutting at a different time. But it is not self-sufficient.
Lighting the Way
The Cricut Expression 2 have included a white LED light beside its blade assembly so you can see what you are cutting on the mat. The Silhouette Cameo however, do not have this feature.
LCD Monitor Comparison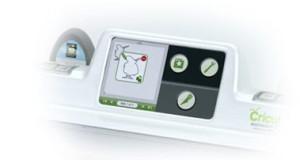 The Cricut has a full-color LCD Touch Screen. For the Ex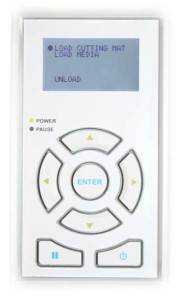 pression 2, this is a new feature, where they replaced the black and white and the keyboard of its predecessors they have. The monitor is made to mimic a mat so you can see where the shapes go. This will save you time and money from creating overlays. It also uses a stylus for you to easily make any navigation or shape movements.
The Cameo on the other side has a small black and white LCD display which is used only to tell you the status of the machine or which process it is in already. It will also show simple instructions when you use the SD card.
Blade Comparison
Both machines have small knives that move up and down and their holder moves sideways while the media is moving forward. Same thing like a printer does, except these machines cut, of course.
Both blades are adjustable so they can cut based on the media type you will use. But if you look closely, the Cricut blade can be adjusted in two ways. You can remove the blade assembly and turn the knob or you can simply adjust it while still in the machine (as long as the machine is plugged off) if the arrow is facing forward. If you need to replace the blade assembly, you can choose whether you need to replace only the blade part because the housing can be bought separately.
For the Cameo on the other hand, you have to take the whole blade and housing from the machine, use the grey ratchet cap, place it on the white part of the housing and turn it to adjust to the desired setting. You can purchase the whole thing, if it needs replacing, unlike the Cricut's 2-part blade assembly.
How To Make a Design
The Cricut Expression 2 will not allow you to create shapes from scratch. You may choose any shape from their extensive library of predefined shapes and symbols from their Cartridges and link them together to create your own design. However, if any shape will not suffice of the design you have in mind, well that is the main problem.
The Cricut is dependent on the cartridges. And if you are not satisfied with the preloaded ones you get with the machine, then you have to buy more cartridges.
The Silhouette Cameo on the other hand does not require any cartridges or physical dies. It is however dependent on the software it comes with it. The software is preloaded with 50 digital shapes. All fonts installed in the computer can be read by the software and Cameo will cut that as well. Other shapes are also available through the online store, both free and paid. But the edge of the Cameo over the Cricut is that because of the software, you can make your own shapes and designs from scratch. You can draw, trace, and type text on it like any photo editing software can.
Software Comparison for Cricut and Cameo
The Cricut can use softwares. Though this is optional, more crafters are still trying to learn using these to make more custom designs. I said softwares because there are two available ones in the Cricut website.
The first one is the Cricut Design Studio. This is also available for the other models and can be downloaded in their website. But the free version is only a trial, and you have to purchase for the software itself to enjoy its full capability. Another drawback though is that it is only for PC and is not compatible with MAC.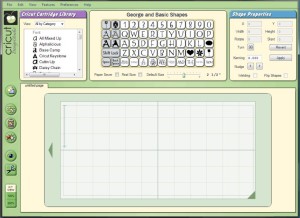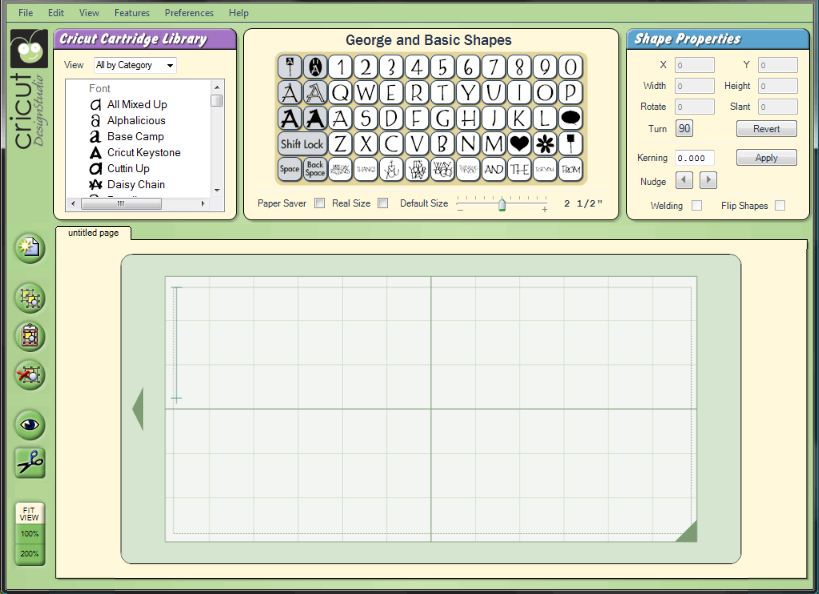 This software will allow you to access thousands of shapes that are available on the cartridges of Cricut and Cricut Imagine. But it is not open to any fonts and shapes that are not from the Provo Craft Library. Even if there are some compatible ones from third parties, the Provo Craft do not acknowledge these. And you have to own those cartridges yourself before using the shapes on them.
The best thing about this software is you can alter anything the cartridges have. This means you can rotate and resize shapes for your designs. Still, it will not let you draw shapes from scratch. It will not also color your shapes. You can only make several cut out pieces and put them together.
The second software which was released also when the Cricut Expression came out is the Cricut Craft Room. This is a free software which you can download and save in your computer or use it on the web. The downloadable version comes in PC and MAC versions and it will work for all Cricut models. The web version on the other hand is mostly for browsing only, you need to still install the other version so that you can use it for your machine.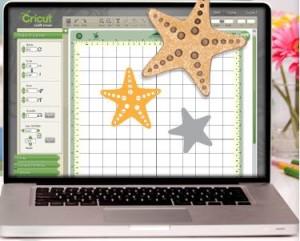 This software can access all the shapes of all Cricut and Cricut Imagine, but you still have to own the cartridges for you to use the shape. It also has its own free font and shapes known as the Craft Room Basics that is available for everyone to use.
Another problem arising with the Craft Room is that it needs firmware update of your machine and will not allow you to use third party softwares.
And like the Design Studio mentioned above, it will not allow you to make your own shapes. You can only alter what is already in their library, but no welding and coloring too.
The Silhouette Cameo on the other hand comes in with the Studio Software upon purchase. It is free and it is not a free trial like the Cricut's. Updates of the said software are available online for free as well and are compatible with all Silhouette and Graphtec's models. It comes with PC and MAC versions.
You can do a lot with this s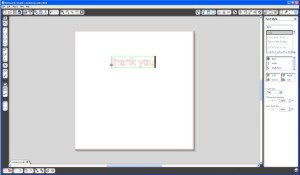 oftware, such as make your own shapes and you can weld different shapes. You can also color/fill out some shapes which can be separate with what shapes to cut. Use the print and cut feature so that the machine will optically read the marks on which part of the design it will cut. Be careful though on what materials you use for printing and do use inkjet printers as they are recommended. These are actually the main features that a lot of users are enjoying. It brings out the artistry in them.
There is an upgrade for the Studio and that is the Designer Edition. This is not free however, but still much cheaper than the Cricut's. It offers more features than the former software. This will enable the users to have more freedom to make their own designs and import their own artwork from different programs such as SVG files. Again this is only optional, as the Studio Software already has extensive capabilities for design like photo editing softwares and cutting for your machine to read.
Online Presence of Cricut and Cameo
The Cricut Craft Room as mentioned above stores a lot of shapes based on the cartridges. You can access this library if you create an account. It is free anyway. But the drawback is that when you use it, you have to stay online the entire time for creating and cutting.
The Silhouette Online Store feels and looks good. Whether you already have your machine or not, you can already be inspired with thousands of designs you see on the site even before you create your account. You will only need to access the website through the Studio Software if you want to purchase designs or download the weekly freebies. That is why they recommend you to have an internet. You have the option to create free account or with different subscription options if you already have a list of what you want to buy in bulk which will make great savings as well. After downloads, you can stay offline and continue playing with the software, then cut later.
Available Accessories
Both machines have a wide variety of accessories available from tools like spatulas, scrapers, types of media, starter kits, and so on. The only difference is the cartridges. The Cameo do not support these since they do not need it for the machine.
Table of Comparison for Cricut Expression 2 and Silhouette Cameo
Product
Cricut Expression 2
Silhouette Cameo
Manufacturer
Provo Craft & Novelty
Silhouette America, INC.
Product Dimensions
23 x 9.4 x 11.3 inches
20.9 x 5 x 6.5 inches
Product Weight
16.6 lbs
6.5 lbs
LCD
Full-Color Touch Screen
Black and White
LED light
Yes
No
Portability
Yes
Optional, uses SD card for saved images
Maximum Cutting Width
12 inches
12 inches
Maximum Cutting Length
24 inches
24 in (with Mat) or
10 feet (Lined Media)
Preloaded Fonts
Yes, 1 cartridge
Yes, reads all fonts installed in your computer
Preloaded Shapes
Yes, 1 Cartridge
Yes, 50 digital contents + free shapes in online store
Create Shapes
No
Yes
Computer Connection
Optional, can use USB 2.0
Yes, USB 2.0
Design Software
Optional
Yes
System Requirements
Design Studio: Windows XP/Vista 32-bit only
Cricut CraftRoom: Windows XP/Vista/7; Mac OS X v10.5, v10.6, v10.7
Windows XP/Vista/7; Mac® OS X 10.5.8 and higher
Requires Internet Connection
Optional (WiFi)
Optional but recommended
Requires Cartridges or Dies
Yes
No
Machine Price
$299.99
$299.99
Blade Price
$9.99 (blade);
$30 (blade housing)
$12.99
Mat Price
$11.99 (12×12);
$16.99 (12×24)
$14.99 (12×12);
$19.99 (12×24)
Sotware Price
$59.99;
Free Cricut CraftRoom Online Design Studio (Optional)
Free;
$49.99 Upgrade (Optional)
Price of Additional Fonts
ranges from $19.99 to $99.99
Free
Price of Additional Shapes
ranges from $19.99 to $99.99
Free every week;
99₡ each
Conclusion
Like any product, it is hard to get all the features in one package, because of overall cost and how designers make them, it will be hard for manufacturers to squeeze everything in one machine.
The Cricut Expression 2 is designed to have more features than any of its predecessors. But when it comes to designing it lacks some features. We would recommend this product for those who are contented with the simplicity of making arts and crafts. The Cricut does the job well in minutes. But it can be quite expensive in terms of adding cartridges, software (if you want to fancy a bit of customizing), and replaceable parts.
The Silhouette Cameo is a great product for those who are more artistic in making their own designs. It will require more hours in front of the computer though. With regards to cost, buying the machine will save you a lot because it is not cartridge based and it comes with a software. You will probably have to buy back-up parts in the future.
Both machines can cut, and cut well at that. But it all boils down to what you really need. If you need something simple and do not want to do with computers, then go for the Cricut. But if you want more out of your money and willing to learn a new computer program, then go for the Cameo. But if you need things achieved that can be achieved with both, then go invest on the two. We have read a lot of users purchase both for their numerous projects, and so you can too.
So which one will suit your crafting needs?
Images courtesy of Amazon, Cricut, and Silhouette
Tagged with computerized die cut machine, die cutter, die cutting, electronic cutting machine