The Sizzix Vagabond Machine was first introduced by Tim Holtz, the designer, in Summer CHA in 2010. He demonstrated only the prototype of the machine during that time and announced that shipping starts on September of the same year. This machine opens up to reveal a machine that is a personal die cut machine unlike anything you have ever seen before. It is portable and fully electric motorized machine which makes die cutting and embossing incredibly simple and truly limitless. It is so powerful that it can not only cuts like butter through paper and cardstock, but Sticky-Back Canvas, Grungepaper, Grungeboard, metal, acrylic, fabric, and chipboard. The Vagabond machine is compact, portable, and easy to use.
Check out the rest of the review below and watch Tim Holtz's video demo too.
Who is Tim Holtz
If you are an avid scrapbooker and love to do paper crafting, then you probably heard of Tim Holtz. He is like the guru of scrapbooking and paper crafting. And yes, he is a guy. But this guy is no ordinary paper crafter, because aside from the fact that he loves paper crafting, he also likes to design paper crafting products and happily shares his techniques on it.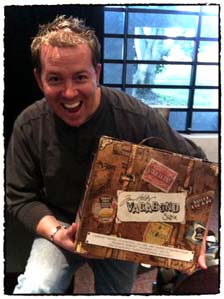 Tim Holtz is the Creative Director for Ranger Industries, one of the leading manufacturers of innovative inks, paints, and embossing products. He is part in the development and design of cutting edge paper crafting products. He has teamed up with various key companies like Ranger, Advantus, Stampers Anonymous, Tonic Studios, Core'dinations, and Sizzix to bring unique products that work hand in hand with Ranger's extensive lines.
Tim also travels across the country and internationally for the purpose of educating people to his world of techniques and project ideas. Also, through Creative Chemistry 101, a website, he teaches the "science" behind it all. This is actually an online class where he shares his tutorials through extensive videos. Each registration cost about $35. But it is already for a lifetime. Any member gets access to previous classes until present.
Tim Holtz is also the author of "A Compendium of Curiosities" Vol.1 and Vol.2. They are filled with creative and inspiring ideas for paper crafters and beyond.
Tim Holtz's designed the Sizzix Vagabond Machine to have a machine that was more powerful than any machine out in the market. This is because he wants a machine to cut and emboss thicker materials like grungeboard, chipboard, bookboard, metal, canvas, acrylic in addition to layers of cardstock, grungepaper, and fabrics. Actually any art medium is Tim Holtz's target for this machine.
Also, Tim designed the vagabond to not only work like no other, but looks entirely artful enough and compact. He partnered with Sizzix, and they did a hell of a job and made his vision come true.
Electric Cutter and Emboss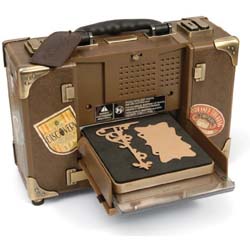 The Sizzix Vagabond is an electric die cut machine. The handle-cranking for other products is replaced by a big motor. The force that the motor provides for the machine's rollers enables it to cut and emboss thick materials with effortlessness. It is actually quiet and works reasonably fast. The downside though is that too much pressure from the motor creates marring on the cutting pad.
Open first the flap of the machine using the slider located just below the handle. Put your platform and shim and the entire sandwich through the flaps, then press the power button. As long as you press the button, it will continue on cutting and embossing. When you lift the pressure from the button, that's the time it will stop working. Be careful not to jam the machine because Sizzix won't be able to fix this problem, another downside about electric powered machine.
Reversible Power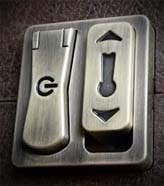 On manual die cutters, you can run your sandwich on either flaps of a machine. For electronic die cutters, you can run your materials through one side only the same way you would on a printer. But for the Vagabond Machine, you can also do the same thing like a manual die cut machine can do. This is perfect for right or left-handed artists.
How? Simple. Notice the buttons on top of the machine on either side of its handle? One side is actually the button for directional button with the power button. While on the either side, it's just for decoration purpose. These buttons mimics that of the locks of a real suitcase, right? Tim really made it look almost like it. Using the directional button, you can switch on forward or reverse. This will give the machine the direction for your sandwich to go.
Fits Items 6″ Wide
The maximum material width you can feed on the Vagabond is 6 inches. Like the Big Shot machine and Cuttlebug, it can fit the smallest dies up to the half a foot wide and embossing tools with it. And since it does well with thick materials, this is great for making 3d crafts and embellishments.
Portable
The Sizzix Vagabond Machine measures approximately 12 1/2 x 4 5/8 x 9 inches when closed, and 15 1/4 x 12 1/2 x 10 1/4 when the handle is up and flaps are open. It also weighs 14 pounds. It is quite heavy, yes. But the weight will actually help the machine to prevent any movements at works. And a lot of users do not mind its weight for mobility. 14 pounds is tolerable enough for lugging around.
For durability also, it is made of solid core steel rollers, unibody cast roller housing, solid steel gears, high torque motor, and ABS plastic exterior.
Compact
The Vagabond looks like a vintage suitcase when all parts are packed and closed up. It reflects Tim Holtz as a traveler with all the stickers and stamps on it. Also, you will notice how well designed it is. Imagine even the big motor mentioned earlier is even housed inside this machine? And all sides of the "suitcase" have its own purpose and are utilized well.
The handle is of course used for carting the machine around. Underneath the handle, you'll find the switch to open the flaps which are on the middle of the machine. On one side of the handle you will find the directional button and the power button. Also, in the middle of the machine are the heavy duty rollers.
The best thing for this "suitcase" is that it packs the power cord neatly. This is not common to all electric die cutters. Look at the side of the machine, open the small flap, and you will find the power cord. Then simply insert the non-pronged end of the cord on the other side of the machine.
110V Input Only
The limit of the Vagabond Machine is that it only requires 110volts input. This is great in the United States and Canada. But for those who wanted to use the machine outside these countries, a voltage regulator or what we call a step-up transformer to accommodate 220volts input. Plugging the machine directly on a 220volts socket will fry the machine's motor and will void warranties. The machine will last for about 5 seconds. So be careful.
We also hope that Sizzix and Tim Holtz redesign the machine with an adapter included like other electronic die cut machines.
Personalizing the Vagabond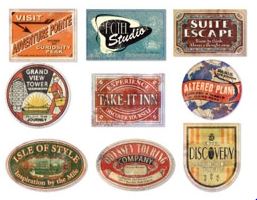 When you purchase the Vagabond, it has sheet of stickers included in it. This will enable you to customize your machine in your own liking.
Sizzix Solo Platform & Shim and Cutting Pads
Like the Other models of Sizzix such as the Big Shot and Big Shot Pro, the Vagabond also comes with the Solo Platform & Shim, and a pair of Cutting Pads. Their function is the same with the other models. They only differ in size because Big Shot Pro is wider than the Vagabond and Big Shot Machines.
Using the basic sandwich of dies and materials between Cutting Pads placed on the Shim and Platform, you can use Cuttlebug Dies and Embossing Folders. Follow the instructions laid on top of the Shim and Platform to make better cuts and impressions.
Also the Shim and Platform tend to get distorted because of the usual wear and tear, simply replace them. While being used, you can see that the pressure of the machine contributes to the warping. The clips on the flaps are there for this reason.
Compatible with Other Brands' Dies
In order to use the Vagabond Machine with other brands' dies, you need to purchase a separate Wafer-Thin Die Adapter. Same with the other Sizzix models mentioned above, this is not included upon purchase.
Simply out this on top of the Shim and Platform before the cutting pads and you can apply it to Quickutz, Nestabilities, and Spellbinders. Like the Shim and Platform, the Adapter has instruction printed on it, so following it will lead to better cuts and impressions as well. If you think you jammed it, call Sizzix outright and they will walk you through it.
Demo Video of the Vagabond By Tim Holtz
Pros and Cons
Pros
Very compact, Storage is easy
Motor is powerful, reversible, and quiet
Can go through thick materials with ease
Electric, no more cranking handle
Cons
Not auto volt, you have to purchase at least step-up transformer for those purchasing outside US/Canada
Quite heavy
Consumer Ratings
Consumers rated the Vagabond Machine as 4.8 and 92% gave it a 5. It has been in the Best Sellers list in Amazon, ranking #845 in Arts, Crafts & Sewing and #16 in Die-Cut Machines categories.
Sizzix Vagabond's Price
The Vagabond Machine is normally sold for $249.99. But during this post was made, it is only $185 in Amazon. This will give you 26% or $64.99 savings.
Verdict on the Vagabond
If you are a newbie to the whole die cutting and embossing, you can first try out some punchers and manual cutters, because they are less expensive and you can get used to using dies. Then start a collection of dies. When you are want to step-up your game, the Vagabond is the right tool for you. It may be a huge investment, but it will be worth your buck.
Also, if you are not afraid to try something new, go electric, as it is both more efficient than a manual die cutter machine and less complicated than the electronic cutting tools out there. You can find loads of youtube videos on how to use the Vagabond. Lastly, follow Tim Holtz tutorials, or read his books to learn his techniques.
Images courtesy of Amazon, Tim Holtz, and Arty Carty
Video courtesy of YouTube/Tim Holtz
Tagged with cheap scrapbooking, die cutter, die cutting, electronic cutting machine, embossing machine, scrapbooking tips