Introduction
The Cuttlebug Machine is developed by Provo Craft and was launched at the end of 2006. It uses a unique rolling technology that allows you to cut, emboss, or cut and then emboss shapes. For years, the Cuttlebug Machine has been one of crafter's favorite little toys. And just last year, Provo Craft updated the bug to improve some of the little things the old machine has.
Below, we will list out all what this little bug can do and its difference from the original machine.
Inside the Box of the Cuttlebug V2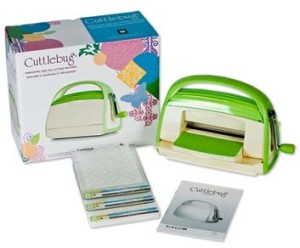 Cuttlebug Die Cutter & Embosser
1 – A Spacer
2 – B Cutting Pads
Instruction booklet
1 – 5×7 flower embossing folder.
Cuts Shapes
Using cutting dies, you can cut of an image on any material such as felt, fabric, transparency sheets, fun foam, chipboard, vinyl, thin plastic and metals through the Cuttlebug.
The cutting die from Provo Craft is made of metal on one side and foam on the other. While other dies are just made up of one type of material. One die has one shape or image only. So if you want to cut out a variety of images, you would need to purchase different dies.
To create die cuts, place the Cuttlebug machine on a flat and smooth surface. Open the flaps and it will push the suction cups onto place. Take note that in the old version, the suction cups have fewer grips even though you put it on smooth wood surface. The new version has better suction cups, so it should no longer be a problem. Then lay your material on top of the die with its foam side up, if using Provo Craft dies. Then sandwich them between two plates B. Then lay them all on top plate A or Spacer. Then simply feed everything at the opening of the machine. And then crank the handle on the side of the machine. Remove the sandwiched material and you will find your cut pieces.
As you are rotating the handle, consider holding the machine on the top, because the machine has the tendency to move because of the horizontal force being applied to the sandwiched plates. Unfortunately, the suction cups could not control this movement.
Embosses Shapes

Along with die cutting, the Cuttlebug can also emboss shapes. It can emboss different types of materials such as paper, foils or thin metals, napkins, vellum, and acetate.
To emboss using the Cuttlebug Machine, place the machine on a smooth surface the same way you would when you cut shapes. But this time you will use the embossing folders if using Provo Craft's products instead of dies. Place your paper facing upwards inside the embossing folder. Then sandwich them using two plates B. Then put those on top of the plate A. Then push all of them in to the machine like you would when die cutting. Then rotate the handle and listen to the pop sound. Then they will come out the other side, with the image embossed on the paper.
Same procedure will be done if you want to cut first a certain image then emboss the shapes of the inside of the cut image. Again, hold the top of the machine when cranking the handle to prevent further movements.
Fits Items 6″ Wide by 1/8″ Thick
The maximum material width you can feed on the Cuttlebug is 6 inches. So if you have projects that are more than 6″, the machine will not be able to do it. It is only great for making cards or producing embellishments for projects, not a whole 8 or 12 page width.
The maximum material thickness you can feed on the Cuttlebug is 1/8 of an inch. This is great for cardstocks and textured papers. You can even fit multiple cardstocks of different thickness with one pass.
Portable and Compact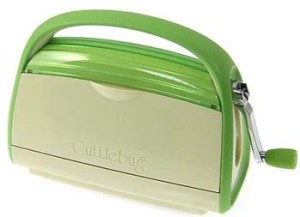 The Cuttlebug Machine V2 has a dimension of 14.4 x 7.2 x 12 inches. It is more compact compared to the previous model. It is less bulky making it easier to store or bring along on travels.
It also weighs around 11 pounds. You won't have any trouble moving it around.
Because of the overall design of the Cuttlebug Machine, it has a fold-&-store profile. Each side has flaps that folds and now the handle can also be tucked in. This allows you easily store it in less space than other leading machines.
Durable
The Provo Craft Cuttlebug Machine has always been classified as a die cut roller machine. The roller type machine has less pressure exerted on its core of the machine which increases its durability. The rollers are made of sound materials and do not flex with normal use. But they can be stressed over time or the usual wear and tear. They are smaller compared to some other roller machines like the Big Shot and Big Kick by Sizzix.
The outer casing and metal handle in the Cuttlebug V2 are also made of more durable materials as compared to the first version.
Manually Operated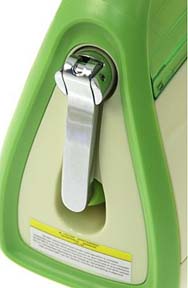 The Cuttlebug machine does not require electricity. Nor is it powered by batteries. It uses gears to make the rollers move and press the materials between them. It only requires a user to move the handle located on the side of the machine and rotates clockwise or counterclockwise to move the gears.
The handle of the new version is also improvised with a sleek look. It used to be unscrewed if you want the handle to be tucked in. It is collapsible to keep it from snagging or sticking out. And it is easy to fold for storage.
Cuttlebug Spacer Plate A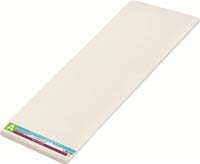 The Cuttlebug Machine's rollers have a certain distance from each other. Since the rollers also give out pressure to make the cuts and embosses, Provo Craft requires the use of Plate A. This acts as a spacer between the machine and the other items. It is made up of plastic though, so possible replacement after using the machine for some time is possible.
When using non-Provo Craft Steel Rule Dies, exclude the Spacer A on the sandwich. The steel rule is too thick already and the plate A will no longer fit.
Normally, plate A is 10×6 inches and replacements are sold for $8.99. Provo Craft created also a longer spacer which is 6×13 inches and is in retail for $19.99.
Cuttlebug Spacer Plates B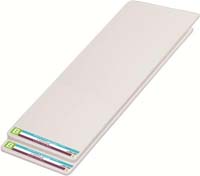 Cuttlebug requires these two when cutting and embossing, the Plates B. You normally sandwich your material and dies/emboss between them. These cutting pads are your materials' protection against both the rollers of the machine and your dies/emboss. They are also made out of sturdy plastics but are thinner than Spacer A.
The top plate B usually curves or warps due to the rollers' pressure. Also both plates have the tendency to acquire the shapes or images of the dies. These are issues that Provo Craft haven't improved even from the first version of Cuttlebug. To lengthen their lives, you can turn or flip the plates every time to use them. Also, dedicate a Plate B on top and below, so that only one will likely get replaced than both of them at once.
Once the plate B breaks you need to replace it. You can buy a pack of 6×10's which are in retail for $8.99 or the new 6×13's which are sold for $19.99.
Compatible with Other Brands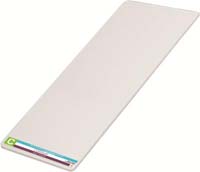 The Cuttlebug Machine can use other dies and emboss from different manufacturers. It can be used with QuicKutz, Boss Kut, Spellbinders, Accucut to Sizzlits, and Sizzix dies and embossing folders. AS long as they can fir the 6-inch requirement of the machine, it will do fine.
In able to use other brands' dies, you will need the Cuttlebug Adapter Plate C. It can also be used together with a rubber or silicone mat for embossing with metal. All you need to do is replace your Plate B located between the die or embossing folder and Plate A.
For the new Cuttlebug V2, this plate is not included, which is a bit of an outrage. The way we see it, Provo Craft encourages users to buy their own dies. But you can still purchase it separately. The 6×10's are worth $8.99, and the 6×13's are sold for $19.99.
Cuttlebug Dies and Embossing Folders
After the release of the Cuttlebug machine back in 2006, Provo Craft expanded its dies and embossing folder in 2007 until present. From 3×3's to A2 sizes, the range is just remarkable. They also have (sometimes) pricey range for just 1 set like $9 to $20 each, so be vigilant on those sales.
Cricut's Online Presence
The Provo Craft gives an A+ on their customer service. Their website through Cricut has a Community where all users of any Cricut share their experiences on their machines and projects.
We commend the Cricut with its beautiful and inspiring website. It is very easy to navigate on it. But in the product section, the products lack descriptions and other details that can be helpful for any future purchases.
Pros and Cons
Pros
It cuts cleanly and easily
It is kid friendly.
It is sturdy and compact.
It runs quietly.
It can be used with most of the non-commercial and other brands' dies.
Cons
Plate C is not included in the box.
The die cutter leaves a cut-in image on your B-plates, and causes some warping.
The machine's smaller shape makes it less stable than other die cutting machines.
Comparison with the Old
| | | |
| --- | --- | --- |
| Description | Cuttlebug V1 | Cuttlebug V2 |
| Dimension | 12 x 7.8 x 9.5 inches | 14.4 x 7.2 x 12 |
| Weight | 11 lbs | 11 lbs |
| Colors | Green, Pink, Blue | Retro Green with Buttermilk |
| Flap Extensions | Longer | Shorter (6 inches) |
| Handle | Plastic, using screw | Metal, can be folded |
| Housing | Just Ok | More Durable |
| Roller Technology | Yes | Yes |
| Cuts and Embosses | Yes | Yes |
| Compatible with other dies | Yes | Yes |
| Compatible with other embossing folders/mats | Yes | Yes |
Consumer Ratings
Consumers have rated the Cuttlebug as 4.7 where 78% of them gave it a 5. In Amazon, it has been ranked #5 in Die-Cut Machines category and is continued to be a Best Seller.
The Cuttlebug's Price
The Cuttlebug Machine V2 is normally sold for $99.99. During this post was written it is on sale for $49.99 plus free shipping. This gives you about 50% savings!
Want the Cuttlebug Machine V2?
If you are into scrapbooking and card making, and you are always on a budget, then this machine is for you. It cuts and embosses, and it does them well. The cost is minimal if you invest on the new Cuttlebug. You'll probably spend less than $100 for getting the basic dies and embossing folders. But if you are just new at this, and you do not have any other dies, you might end up spending on those more than the machine. Be careful though for what you are getting. Make sure you research for the right size so that it will run through the machine.
For years, crafters had enjoyed the Cuttlebug, and with the new improvements that Provo Craft made, it will last long with your collection of craft toys.
Images courtesy of Amazon and Cricut
Tagged with cheap scrapbooking, die cutter, die cutting, embossing machine, scrapbooking tips