Old Design of CreatopiaThe Creatopia Multi-Function Crafting Machine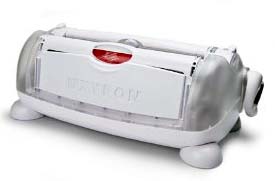 is introduced by one of the leading developers and manufacturers of adhesive application, lamination application, and image transfer, Xyron back in 2009. The company outdid themselves by adding more features to this nifty machine such as able to die cut and emboss with the Shapez attachment released in 2010. By 2011, the company updated it with a fresh new look and some little parts to improve more on the already easy to use machine.
Let's take a comprehensive look on what the Creatopia's well-known features, some revisions, and why this machine is still kept in any crafter's arsenal.
Fits Items 12″ Wide by 1/2″ Thick
The maximum material width you can feed on the Creatopia is 12.5 inches or 31.8 centimeters. This will really fit with a little allowance in case materials are not exactly 12 inches wide. And for paper crafting, 12×12 is usually the widest. So you can adhere paper or even fabric in that width.
The maximum meraterial thickness you can feed on the Creatopia is about ½ inch. This is great for those cardstocks or heavily textured materials on which you wanted to put adhesive on or even cut.
There is no maximum material length specified by Xyron. Users have experienced using long materials with it. The only thing to remember though is to help the machine in feeding and catching the material so that it can do its job perfectly. This way the material will not weigh down itself on either side. Also having the orange trimmer is used to cut the lengthy adhesive after the whole material passes. (In case the trimmer is not on the machine upon purchase, check the box and simply snap it on the cutting bar.)
12″ Edge-to-Edge Coverage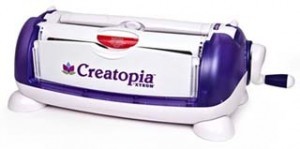 The New Xyron CreatopiaThe Creatopia's dimensions are about 21.5 inches in width, 7.5 inches in height, and 9 inches in length (54.6cm x 19.1cm x 22.9cm). For some, they find the whole built quite bulky and would require some space in an area.
But it is actually designed that way to make more room for the actual work, the material being fed and the tools that go along with it. For the width, they made room for the 12 inches edge-to-edge coverage of probably the widest paper or material you can feed on it and to give space for the handle. The height and length makes room for the tools mentioned earlier such as cartridges and to make room for changing the cartridges.
Easy Change Refills and Cartridges
Although the Xyron Creatopia is designed to do more than just adhere and laminate, it is dependent on additional attachments and cartridges. Unlike the high-end machines in the market, these attachments are not designed like small blades or pen-shaped tools, they are bulky and hard to store. This is probably a barter for being a manually operated machine.
With the latest version of the Creatopia, changing refills and cartridges is way easier compared to the older version. Although some find it easy already to do this before, still the new version is not stiff, and does not need tugging and getting used to anymore. The handle is improved too because it used to flip back when doing actual work.
Applies Permanent Adhesive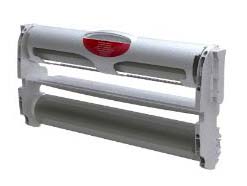 When you get the Xyron Creatopia, it will definitely include a permanent adhesive cartridge in the box. It is about 25 feet in length or 7.6 meters. It is acid-free and non-toxic which will be safe for your crafts.
The Stickz Permanent Adhesive has a very strongest hold and is even good for textured surfaces. It is could take the place of white glue or glue sticks. It is great for photos, paper crafts, home décor, acrylic, chipboard, vellum, metal, light 3-dimensional objects. It is safe for glass, school and office projects.
You can always get another Stickz Permanent Adhesive Cartridge when you ran out of stock. It comes in 40 feet in length this time. It is usually sold for $29.99.
Applies Repositionable Adhesive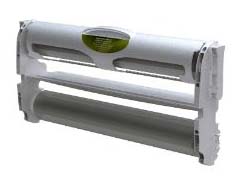 Another great creation of Xyron is the repositionable adhesive. It allows you to reposition items multiple times, and will not leave a residue on most surfaces. This works best on smooth surfaces, but it can still work on a little porous surface. It is advisable to test it on inconspicuous area before applying item to these surfaces just to make sure.
This adhesive cartridge is great for Photos, stickers, paper crafts, and vellum. You can even use it for stencil projects and reuse that stencil as much as the adhesive can tolerate.
The Stickz Repositional Refill or Cartridge also comes in 40 feet in length and should be bought separately. It is also normally sold for $29.99.
Applies Fabric Adhesive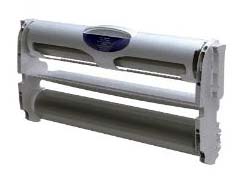 The Stickz Fabric Adhesive is the easiest way to apply adhesive to textiles and ribbons for craft projects. It is also repositionable with fabric-to-fabric use. You have to take note though that you have to iron the fabric well. The adhesive will not stick to those folded or wrinkled area. But it sticks more aggressively on smooth surfaces such as cardstocks.
Great thing about the fabric adhesive is that it is non-liquid. This means there are no messes and no drying time for fabric to stick on crafts. It also does not require heat. So you no longer have to use your iron to stick fabrics. It makes it energy efficient. The adhesive is very tough and keeps the fabric in place on your projects very well.
You can also use it in embroidery or any sewing project. You will no longer have to use pins and make necessary whole just to keep the fabric in place. It will not gum up the sewing machine needle. It will glide through while you sew. You can use canvas journals as much as you want.
The Stickz Fabric Adhesive works well with on cottons, batiks, felts, and foams. It is perfect for appliqués on quilts, garments, scrapbooking, card making, book and album covers, home decor, and other craft projects.
The Sticks Fabric Adhesive Cartridge is sold separately like the other Sticks Refill for about $29.99. It is also 40 feet long.
Applies Two-Sided Laminate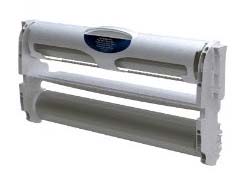 The Two-Sided Laminate is designed to preserve and protect documents, photos, and other items. This product is called the Xyron Protectz. It is also acid-free and non-toxic which will be safe on all items mentioned above.
The Protectz does not require heat for lamination. Although heat lamination is more durable, at least cold lamination will not do a lot of damage on materials such as photos. It is good for preserving your family recipes, children's artwork, newspaper clippings, certificates, ID cards, and other important documents. Just make sure to hold your materials against the rollers. This will ensure that you get smooth laminate.
The Protectz may also be good for thin-layered materials. The thicker layers you put such as foams might result in wrinkling. This is because the foams thickness will be far from the other material and the laminate will try to press and reach that far material. So try to make all layers have almost same thickness. This will also work on fabrics. As long as the seams are on the outside, otherwise the laminate will get ripped.
Also, you can trim the laminate to the edge or even cut through the item without experiencing peeling or separating.
The Xyron Protectz Laminate Cartridge comes in 40 feet in length like the Stickz products. It is also sold separately for $29.99.
Supports Multiple Cuts
A new line of cartridges were developed for the Creatopia, the Cutz. This makes the machine a cutter and not just adhering or laminating unlike the other Xyron products. It easily cuts paper and other thin items up to 12×1/2 inches to size or into strips. It acts like decorative scissors because it can do scallops, wavy, or deckle the edge on your materials.
The Cutz Cartridge is an attachment for the sole of cutting materials which you can install easily on the Creatopia. Simply remove the rollers and the adhesive refills then put the Cutz. It has a straight blade, guide wheel, and a guide bar. Use two guide wheels to make materials straight while cutting. This will ensure your material from getting crooked cuts and veers off from the machine.
It also has a wide variety of cartridges that you can install. Each cartridge is dedicated on certain material types and certain cut design. It can score, perforate, and create decorative cuts. Simply snap the cartridges and the stabilizing bar on your material and run through the machine. Use the guide bar (ruler) to position your cartridges where you want them to go. You can even install all at once to make trimming faster.
The Cutz are great for cardstock, foam sheets, cardboard, and cork. They are also good for fabrics, but you might get those loose threads from time to time.
The Cutz and its cartridges are also sold separately. The Cutz attachment is usually $39.99 while the cartridges such as card kit, deckle & postage, wave, scallop, and straight retail for $12.99 each. Each cartridge pack comes in two's.
Embosses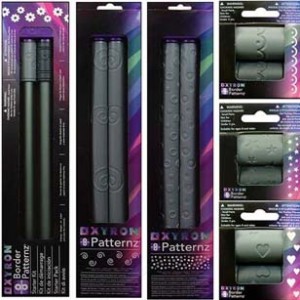 The Xyron Creatopia can also do dry embossing jobs. These set of cartridges are called Patternz and Border Patternz. Yes, there are two types, and one design per cartridge. The Patternz are actually 12 inches wide while the Border Patternz are 3 inches wide. These will make let you make beautiful cards and scrapbook layouts.
For installation, just remove the other attachments and replace them with the cartridge that you want. The Border Patternz can slide so you can actually make embossing anywhere on the paper, not justthe borders. It looks like laminating because you will feed your material in between. The pressure on both rollers will create the embossing effect. It is recommended to 65-to-80-pound cardstock so that the emboss look more prominent. Use also the stabilizing bar to ensure that the material will not make movements.
Each Patternz Cartridges are sold separately. The Patternz such as hearts, dots, swirls, and fleur-de-lis are retailed for $24.99 each. The Border Patternz Starter Kit includes the Floral Border Patternz cartridges is valued at $19.99. And the other Border Patternz cartridges such as dots, hearts, scallop, stars, floral, and animal are sold for $8.99 a piece.
Creates Shapes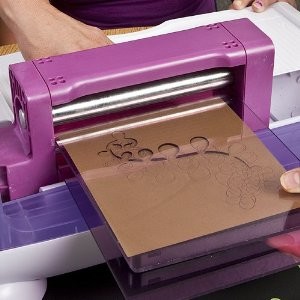 In 2010, Xyron added another great component to the Creatopia, the Shapez attachment. It turns your machine into a die press! It weighs about 5.6 pounds, so this will make your machine heavier. If you have problems lifting, this may be a challenge for you. But it is way portable compared to the Big Shot.
When installing Shapez onto the machine be sure your wheels are lined up and be sure to pull out the front paper tray before you insert it.
The Shapez can cut through 4 layers of fabric with no problems. It is easy to use and glides smoothly. The Shapes Starter Kit comes with 4 plates for use. The main platform base and 3 interchangeable cutting mats will work with dies from any manufacturer.
AccuQuilt Go!
BossKut
Ellison AllStar
ProvoCraft Cuttlebug & Cuttlekids
QuicKutz Cookie Cutter, SingleKutz, Goosebumpz & Embossing Folders
Sizzix Clearlits, Sizzlits, Embosslits, Textured Impressions, Simple Impressions, Bigz, Originals, Movers and Shapers
Spellbinders Shapeabilities, Frameabilities, Borderabilities, Megabilities & Nestabilities
Simply read the instructions that come with the Shapez to figure out the configuration of cutting mats for your dies. The Shapez will also emboss with any embossing plates out there.
The Shapez can cut and emboss materials that are 6.5inches wide and about 7 inches in length. If you want to use the longer dies, simply pull out the base platform and cutting mat and use the QuicKutz Epic 6 (if you have one). You can also use your L QuickKutz Letterpress with this machine, but shim it first as you would with your Epic 6 to get the impression you want on your papers.
The Shapez alone is sold for $69.99, the 2 Pink Plates is worth $5.99, and the other plates are $4.99 each. They also do not come with the Creatopia package. There are also different sorts of Shapez Dies that were designed by Spellbinders that range from $19.99 to $24.99.
Portable Enough
The Xyron Creatopia weighs about 12.6 pound. It is actually lighter than some laptops or other die cutting machine. It does not need to be plugged in to any electronics to do its job. It is manual operated, so it does not have additional electronics inside it. It still is bulky based on the dimensions so lugging it can be a challenge especially when you included the attachments and cartridges.
Manually Operated
The Xyron Creatopia allows you to adhere, laminate, cut, emboss, and cut out shapes without heat, batteries or electricity. The redesigned handle that locks is the only thing that will mechanically operate the machine. It will rely on the "cranking" process you will apply to it. You can fold the handle up for storage. This is what makes the machine cheaper and way affordable than other machines out in the market and definitely energy efficient.
Other Accessories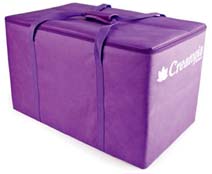 Yes there are other accessories that can go along the Creatopia such as the Creatopia Bag which is only $9.99. It is huge because it can accommodate other attachments on it. If you will purchase the Creatopia Starter Kit, this is already included.
Xyron's Online Presence
While the Xyron Creatopia is a manual machine, you will find yourself opening your computer and logging into the internet to learn more about how to use it. Unfortunately, the basic guide is too basic and looks a little vague. Other users aren't happy with the print out manuals because of small texts and images, so they sought out electronic copies.
Also, video tutorials will help a user more on how to learn how to use the machine and how to properly install and uninstall each cartridge. Good thing, Xyron's website offers user guides in PDF files that are easily downloadable and has a collection of tutorials videos. But a lot of users also go to YouTube for other tips from other users.
Xyron's website also has dedicated a forum section to allow users and their representatives to interact freely.
Pros and Cons
Pros
The quality of the adhesive is superb. It holds strongly and is not messy. It will not gum-up needles or stick on scissors.
It is large but very lightweight.
It is not difficult to use.
It takes a few seconds to change one component to another.
It is kid friendly.
Cons
The Creatopia is made out of an acrylic or plastic material and can easily crack if not handled with care.
It is cartridge dependent. So investing on it can be pricey and their sizes take too much space for storage.
Machine should be anchored properly on a smoother and even surface because it may slide around.
It wastes some materials because it takes adheres 12 inches. For smaller items, the smaller Xyron models will do.
Adhesive can stick to itself or rollers and cutting strip.
Consumer Ratings
The Xyron Creatopia has been rated 4.1 out of 5 by consumers over at Amazon. It has also been a Best Seller which ranked number 91 in Die-Cut Machines Categories.
Xyron Creatopia's Price
The New Xyron Creatopia is priced at $99. During this post is written, Amazon offers this machine for only $64.99 with Free Shipping. Normally, they list it at $149.99. If you manage to get it through our links, you might be able to save about 57%.
Overall
For a manual operated machine, the Xyron Creatopia is versatile and gives you a lot of options to do with your crafts. The only issue here for the cost is how much attachment and cartridges are you willing to get hold of. But based on its ease of use, compatibility with other brands, and its capabilities, it is one big machine that can compete with the high end electronic products out there.
Images courtesy of Amazon and Xyron
Tagged with die cutter, die cutting, embossing machine, greeting card maker, laminating machine, sticker machine