"Dream it, Create it, Cut it! – Pazzles"
The Pazzles Inspiration Creative Cutter is the first computerized electronic cutter designed for paper crafters back in 2008. It boasts to do all the jobs of scissors, knives, punchers, and die cutters that are limited in many ways. Read along this article to see what the Inspiration Creative Cutter make anyone run their creative juices flowing in no time.
Universal Cutting Blade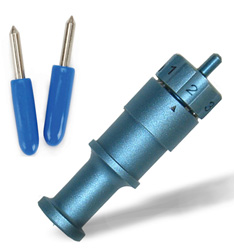 The Inspiration can cut materials in as little as 1/8 of an inch all the way up to 12 inches in width and 24 inches in length. The Inspiration can also cut up to 2millimeters or a little over 1/16 of an inch in thickness. The life of a standard Pazzles blade can last up to 500 12×12 sheets. But of course, any blade can last longer depending on the materials it frequently cuts.
Media Types the Pazzles Inspiration Can Cut
Paper
Smooth and Textured Cardstock
Chipboard
Vinyl
Felt
Flocked Paper
Stiffened Fabric
Thin Acrylic
Magnet Paper
Sticker Paper
Heat Transfer
Stencil Plastic
Window Cling
Pazzles Iron on Flocked, Glitter, Solid
Pazzles Stamp Rubber
Art Foil
Rhinestone Template
Sand Paper
Sheet Foam
Pazzles Stencil Plastic
Sticker Paper
Vellum
Transparency Plastic
Velvet Paper
X-Ray Film
Pazzles Window Cling
Adhesive Mat
Adhesive Mats come in 12×12 or 12×24 inch sizes. They have an approximate life of about 25-75 sheets. Some users find it helpful to rotate the mat to even out its thickness to prevent wearing out on one side of it.
Minimum System Requirements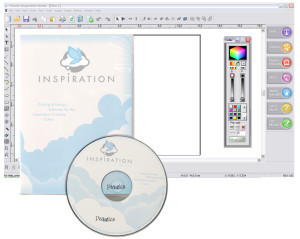 The Pazzles Inspiration is dependent on a computer. This means it needs to be hooked to the computer via USB port. Then the Inspiration Studio Software must be read through a CD-ROM and installed in the computer.
Unfortunately, Pazzles Inspiration can only run in PC with a minimum requirement of Windows 2000, XP, Vista, or Windows 7 Operating Systems, 1+ GHz CPU, 256 MB of RAM, 700 MB free disk space.
If you happen to own a MAC and still want a Pazzles Inspiration Cutter, third party software are compatible with it such as the Sure Cuts A Lot (SCAL). And if you happen to have the Adobe Illustrator CS5, the Pazzles have a Beta Plug-in for it, which will allow you to design and cut via the said program.
But if you want to use the Inspiration Studio Software on your MAC, Pazzles recommend using emulation software packages such as Bootcamp, Parallels Desktop, or VMware. You can call for technical support to help you if you have a hard time with this process.
Vector-Based
The Pazzles Inspiration Creative Cutter's images are vector-based. In math, vectors are geometrical shapes and figures that are used to represent an image such as a point, line, curve, and polygons. Vector graphics in computer are based on images made up of the same vectors mentioned above which lead to control points and have direction. Each vector direction or track can have its own color, fill, shape, and thickness. In other words, vector-based images are easier to manipulate regardless of the original size because vectors can go in different directions. So if you will edit an image, you can stretch it, distort, and even resize it without compromising the quality of that image. It will not blur or look grainy.
Welding Shapes
The Inspiration Studio has the ability to join certain selected overlapping shapes or elements together. Simply select the shapes you want to weld then click the icon for Weld/Join. This is not common to other products out there making users frustrated on cutting and manually fusing each shape just to create a desired shape. This is such a waste of time and materials. With the weld option, you can create new shapes out of the preloaded images available on the software.
Distorting Elements
Another great trick that the Inspiration has is the ability to change the shape of an element. Simply use the Distort feature to transform your shape or even text. You can choose the form it already has in stored or you can make your own by directing the points anyway you like.
Outlining and Creating Shadow Mats
Normally, a crafter outlines some elements of his work. But the Pazzles Inspiration will outline an element for you. Using some other tools like the Pen Tool, click the desired shape you want to outline, tinker with the settings and it will do the trick. This feature also is great for creating shadow mats.
Resizing and Moving
Almost all programs actually have these features to resize any given object. Pazzles also include these resizing and moving features to allow users to drag an element to make it bigger or smaller or move them around a canvas.
Turn Cliparts to Vectors
Since the Pazzles Inspiration Studio is vector-based as mentioned earlier, there is a feature to import your own cliparts and images, and turn it into vector files. This is the auto trace function. It can automatically turn those non-vector files into vector files for better manipulation. Then you can cut them later on.
Can Cut All Your Fonts
This is another wonderful machine like the Silhouette Cameo where the software can read all True Type Font files or TTFs. They will automatically be vector-based fonts where you can then manipulate in your liking and cut them later on.
Included Accessories Upon Purchase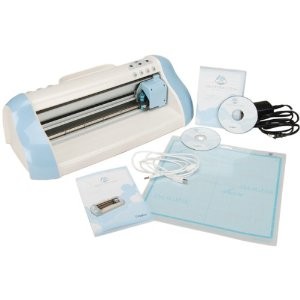 The Inspiration Creative Cutter includes the following items upon purchase.
Inspiration Studio
1 – Inspiration Adhesive Cutting Mat
1 – Inspiration Universal Cutting Blade
Full Color Manual
300+ Ready to Cut Images
1 Year Limited Warranty and a 90-day phone technical support which will start on the first time you call them
Pazzles Inspiration Technical Specifications
The dimensions for the machine are 21.25 inches in length, 9.5 inches in width, and 7 inches in height. Its total weight is 11.2 lbs which excludes the AC adapter.
The maximum cutting area of the Inspiration is 12 inches in width, 24 inches in length, and up to 0.08 inches or 2mm in depth. But there are materials where multiple passes are required if it is too thick because materials may differ based on density, hardness, and tensile strength.
The Pazzles Inspiration has 50 unique pressure settings with the capability to apply more than 1Kg of downward force. Again, this also can also differ based on the thickness of the material and not yet connected to horizontal force applied. The Pazzles also have 5 unique speed settings. These adjustment settings allow you to take control of cutting your materials and also lengthen the life of your tools.
More Than Just Cutting
The Pazzles Inspiration Creative Cutter is not limited in cutting alone. Change the cutter with some of the tools for Pazzles and you will be able to draw, engrave, pierce, emboss, and distress. These tools are:
Pen tool
Engraving Tool
Piercing tool
Embossing Tool
Distress Tool
The Pe
n Tool is designed to fit standard pens up to 0.4 in diameter for journaling. This is a good tool as an alternative for your own handwriting. It can also draw for you for that pen-detailing on your die cuts or use a glue pen for glittering later. All you need to do is put the pen and tighten it with the screw. Detailed instructions come in with the backing behind the tool.
Some users often find it hard to tighten the pen on this tool. As you can see on the picture, it has a plastic screw, which not all users are so convinced to do the job. As an alternative, you can get a 3mm metal screw replacement for it at any hardware. If you are planning to purchase the pen tool, it is advised to ask the representative to give you the pen tool that already has the metal screw. That metal screw is not advertised but you can definitely ask for it.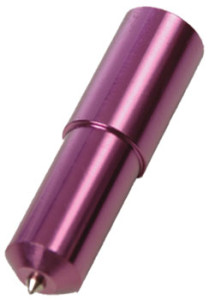 The Engraving Tool is another tool from Pazzles that will enable you to engrave materials such as metals, wood, foil, and acrylic. It is equipped with a diamond tip that enables to do the engraving. It is much recommended for this tool to be used with the engraving mat for positioning the thick materials being engraved.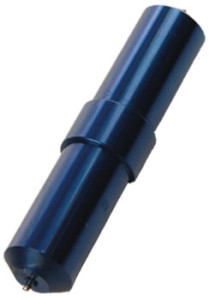 The Embossing Tool has two embossing tip sizes: one for thinner detailing and one for thicker designs. It can be used in materials such as vellum, foil, suede paper, and even cardstock. It is recommended though to use the embossing mat for deeper emboss. But the good thing about that mat is you can also use it for cutting afterwards, so you do not need to replace mats if you want to emboss then cut at the same material.
Another use for this tool is that you can use it for scoring materials like making boxes and cards. You will get cleaner folds with it.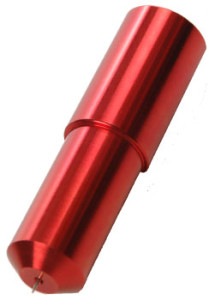 The Piercing Tool does not just simply pierce but it can also do perforations. It can make beautiful pierced looked unlike using blank pens or actual needles to do the poking. You can make pierced designs, laces like perforations, and sewing guides if you want some stitches in your design. It also is recommended to use the embossing mat for this tool for deeper piercing.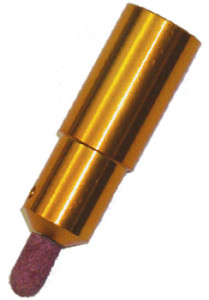 The Distressing Tool has a very abrasive round tip like a sand paper. This rough tip enables you to rub away the top layer of a material. This is what makes the material looked like it is distressed. You can replace this tip if it wears out. Or simply reuse different-shaped tips to make different distressed effect.
All this tools are sold separately. They usually range from $30 to $39.95 a piece. What we are trying to show you here is that you can maximize your machine and create different effects in your design. The Pazzles Inspiration may already be of huge investment, but in the long run, a few more tools will make your machine worthwhile.
Get Savings on Tools and Accessories
Cuts Edible Arts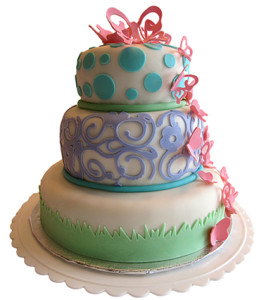 Make pastries that look as good as they taste! – Pazzles
Aside from the tools mentioned above, Pazzles came out with products that extend the usage of the Pazzles machine. You can now cut edible materials such as fondant, gum paste, and cookie dough for pastries. This is great for those who love crafting and also baking. It will enable you to save on using different kinds of shape cutters.
These tools are called Pastry Tools that were released during the Holidays of 2011. Imagine having able to access thousands of designs through the Pazzles' website, CDs, and software, then transfer them to your home-made cake that will look so professional that you can actually make a business out of it. This is one of the best things that we love about the Inspiration Creative Cutter. It is truly versatile!
The main tool that Pazzles shows-off is the Pastry Tool itself. It is also like a blade cutter but is food safe and could cut edible materials. Simply replace the other tools from the blade housing and pop this tool and you are ready to go.
Along with this tool, there is an entire line dedicated for the decorating pastries which of course are also safe for food unlike the regular accessories you use with the machine. There is the pastry mat which will hold the edible material in place during the cutting. It doesn't have the sticky part of course. And for the rest of the Pastry Starter Kit that they released, Pazzles included Sugar Sheets, removable rollers, a pick tool, and a CD with pastry images and video tutorials.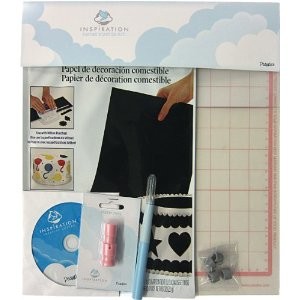 This Pastry Tool and Starter Kit are all sold separately.
Replaceable Parts
There are also available parts for the Pazzles Inspiration. Of course for maintenance sake and surely if blades and mats are overused, you will need to replace them. They are the ones that wear out the fastest. This is not limited for the regular cutting blade and mat. As mentioned above, certain tools such as distressing and pastry tools have replaceable tips as well. Mats such as embossing and piercing are also made to create better effects with their corresponding tool tip like the pastry mat.
Other Accessories
Pazzles also offer some accessories that you can get separately for your Inspiration Cutter. There are carry-on bags mainly for protecting your machine in case of possible movements from place to place or simply for storage.
Another accessory that is perfect as a compliment for your machine is the Tool Kit. It includes a chisel, tweezers, bone folder, pick tool, craft knife, ruler, and cases for you extra blades. It comes in a cute butterfly case.
For additional designs, you can always get the Image CDs. Each CD is a collection of a type of design or made for a type of embellishing such as Rhinestones, Vintage, and Wall Decor.
Software Upgrades
Although the included Studio software has a lot of features for you to enjoy, still it has limits, so Pazzles created an upgrade to a Pro version. This is in retail for $99. Below are some of the features that can be enjoyed in the Pro version.
After the 1st registration, you can use the software even without plugging the Inspiration Creative Cutter machine
Use the software up to 3 computers
Converts vector into Rhinestone
PDF import
300 New Images are added for the library
Group or Ungroup Functions
It can auto save your work
Subtract and Weld Function
Weld and Subtract Function
Improved Default Color Palette
Convert any vector into Lattice Designs
Special Effects such as a shadow, charm, or outline
Freehand Draw Function
Paper Textures are added
Create your own Color Palette
Lasso Selection
New Toolbars for WYSIWYG, Wire Frame, Show Construction Points
Wrapping objects at any given path
Create better titles with Vertical Text Feature
Better Interface
Pazzles' Online Presence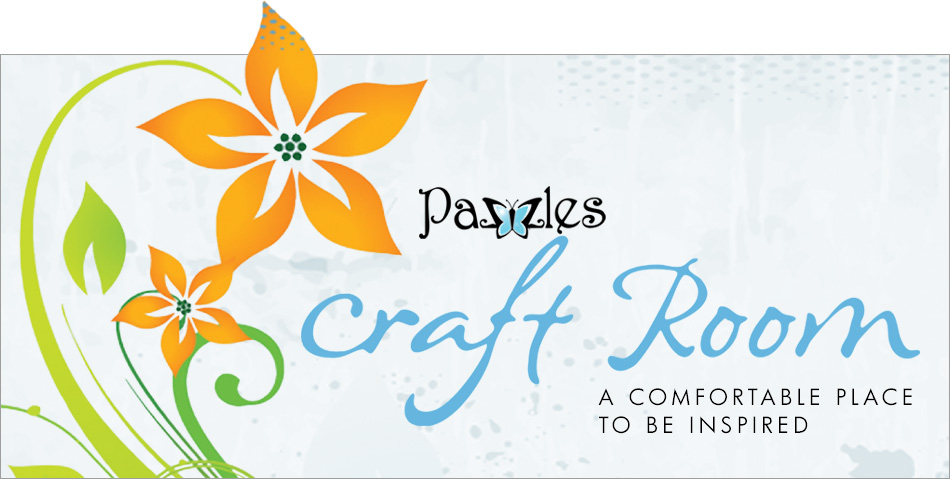 The Pazzles' online store is called Pazzles Craft Room. It was launched back in 2009 as a web service to give a more organized area for subscribers and members to make shopping easier. It also offers 15% discount on all items for all members. It also allows members to share their work.
Aside from shopping and downloads, the Craft Room presents online classes and over 100 video tutorials for members to learn more. Live chats are also in the Craft Room so that anyone can ask outright about designs and the machine.
Also, their forum is filled with members who would love to share their opinions and experiences with their work and the machine. Surely, it is a good place to keep getting inspired.
Pazzles' Help and Support
The Support of Pazzles is top notch. The website is clean and well-organized. Almost all items they offer have tutorials. They also have a huge section on how to reach them with an option to chat with their professionals. Also, forums and the rest of their community give additional help for beginners to pros.
Pros and Cons
Pros – The Pazzles Inspiration Creative Cutter does a lot more than it was first designed. It can cut, engrave, emboss, and draw. It also has an extensive library of images to choose from, plus it gives users the freedom to make their own. Another thing that we love about this nifty machine is that it extended its range of materials it can bite — it can cut pastries!
Cons – There are only two problems usually seen on the Pazzles Inspiration and those are expensive price tag, and it is not a stand-alone machine. Users find it expensive to shell out almost $600 for a personal machine and add about $100 more for additional tools. And although it can save you a lot of money in the future, users still think about getting other cheaper die cut machines and purchase add-ons one at a time. Also, it is not portable. It requires to be plugged in the computer all the time when you use it.
Consumer Ratings
Consumers rate the Pazzles Inspiration Creative Cutter as 4.3 where 42% of the reviewers rated it as 5. Other users gave low ratings to this product due to its price range and computer dependability.
Pazzles Inspiration Price
The Pazzles Inspiration Creative Cutter is in retail for a whopping $599! But during this post was written, it is on sale for $404.75 plus free shipping, giving you a 32% or $194.25 savings. We hope you managed to grab this promo! (If you did not, drop us a message and will gladly search for great deals via Amazon.)
Conclusion
If you really want a machine that can do practically anything, from design to implementation, the Pazzles Inspiration Creative Cutter is for you. What impressed us here is that it is not limited to crafts alone, it can be used also in designing food.
The Inspiration does have a huge drawback, and that is a huge price tag. If you want all the basics covered, like the tools and pastry kit, you will have to shell out around $851.24 (Regular Price). But if you will think about it, that's all you are going to purchase just to maximize the capabilities of the machine. Any add-on will probably for replacing torn parts in the long run.
Images courtesy of Amazon and Pazzles
Tagged with computerized die cut machine, die cutter, die cutting, distressing, electronic cutting machine, embossing machine, engraving, scrapbooking materials